Posts from Into the Industry mentorship program
FIF Mentor Sparkman
Dearest Batcavers!
It has been a hot second. But my first official credit on a major feature film is DONE. My name is going to be up on the screen as the Director's Assistant :)
The shoot was long and crazy and I cannot even begin to express how much I learned. So I'm going to post about it overtime on here.
But what I did hear a LOT was affirmation that I was a goddamn rockstar at my job, a total badass, and a "breath of fresh air." And I want to attribute that wholeheartedly to this program and what we do here.
We are taught the positive outlook and rockstar mindset FIRST THING and it brings you into this kind of work with the attitude you need to shine on set.
I modeled myself after Janet Urban so many times on set. Whenever I was about to do anything less than 110% (because I was feeling tired or lazy) I would think to myself, "Nope. Janet would do this job the best she possibly could, so you're going to do that too." And I did. And it was noticed.
Just the mindset Janet Urban teaches us really does make us standout guys. It's the little changes, like holding yourself up straight, smiling that you are there, putting on rose colored glasses to see the positive rather than the negative… that is what made me SHINE the entire shoot no matter how long the days where. That's what makes all of us shine!!
Practice that mindset and overtime it will be second nature. Because above all else, the MINDSET I had is what made me shine on that job.
WWJD. What Would Janet Do!!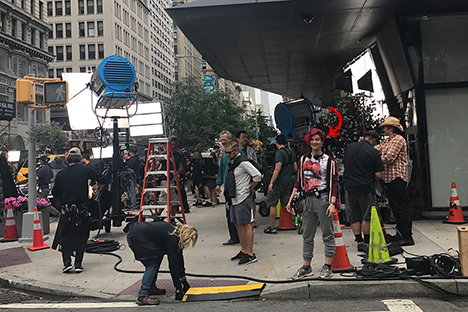 FIF Mentor Lera
Yaaay! So happy! I was working on this film on NY Unit!
Amber B.
I out smarted my laptop!! I hooked it to the big screen and now I can sit comfy on the couch, have it on big screen and loud volume:)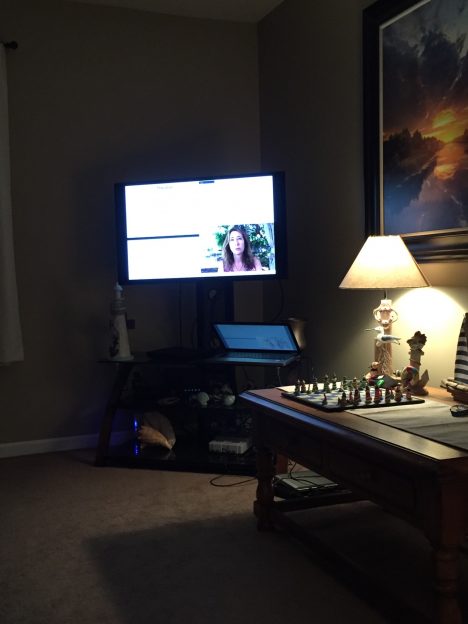 FIF Mentor Parker
Howdy everyone!! Waned to give you an update..If you didn't know I was in Maine the past 2 months working on a tv show for Disney. They flew us out there from LA!! After that I was able to spend a week back in Ohio to visit family and friends! I've had about a week off since being back in LA… what I did though was inform everyone i knew that I was coming back in town. This past week I have booked 2 gigs off of those people (5 days on one, and the other is 2 days a week for 10 weeks), and have others that I'm on their list when production starts later this month!! Making lasting connections on set is HUGE!!
FIF Mentor Lauren
I had some film experience: studied screenwriting in Vancouver, wrote and directed some short films, did some work on other short films. But I had NO experience in paid film work.
Before I found this program, I didn't know it was all around me! It took a while to make connections and then for those connections to start reaching out to me for paid work, but once they did, it was amazing!
I got a few jobs from postings that I applied to online right after I started the program, but other than that, not a lot of paid work for the first four months.
Everything came together because I was following Janet's advice in the modules.
Bam! I went from hardly any paid work to paying my bills by freelancing as a PA so fast!
In March, I worked for ONE DAY in film.
In April, I worked ELEVEN DAYS paid and six days volunteering in film. Since then, I have been working consistently. It can all come together that fast!
At the end of last year, I had virtually no professional film connections.
Now I'm working all the time! You can do it!
Almost all of us started in the same boat, even Janet!
We went from knowing no one and worked our way up.
Just follow the program! It's gold!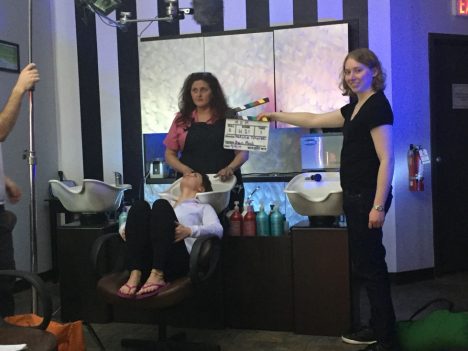 FIF Mentor Lera
It was such a great experience yesterday to work on new Netflix Paramount "baby", that is called Maniac with Jonah Hill and Emma Stone, it was so much fun to work with period cars and gun fire! I definitely cannot wait to watch the show!!!😊😊😊
Also the Key from The Irishman was BG addl PA there, and he said he want me every day on the his shoot, but I explained that I need more time for my acting career, so he was so nice to agree to figure how we can work out our schedules!
Feeling so cool and today is one more day on Maniac and I hope more days later!😊
I wish everybody in our wonderful FIF family inspiring and kick ass day and weekend and next week!!!😎😎😎❤️❤️❤️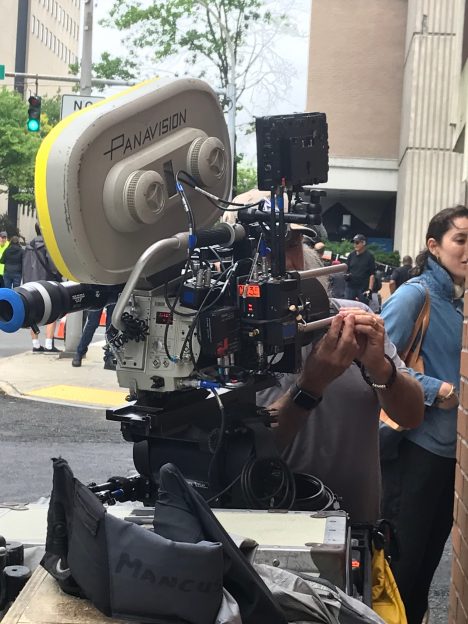 FIF Mentor Erin
As most of you know my goal in the industry is acting. Like all of you here I use the methods Janet teaches and I work on crew to build relationships and to SHINE right in the faces of those who do the hiring!
Well, we were shooting a commercial in a hanger at the ATL Airport in the actual plane! It was very cool.
I was working as Casting Assistant PA. THEN SOMETHING AMAZING HAPPENED!!
Half way through the day the client (Delta) had spotted me working and asked the Director if he would run me through wardrobe and makeup because they wanted me in the commercial!
Boom!
Proof that Janet Urban methods are REAL and WORK!
By the way, I had submitted for this shoot and they said I didn't fit the criteria.
FIF is so legit you guys STICK WITH IT. Put the work in and I promise that things WILL happen for you.
This is the second time that I have been picked from my work in crew and asked to work on camera.
Patience are key. This won't happen on every set but it will happen when it is supposed to!
I will share the commercial here AS SOON AS I GET A COPY!!!
Love y'all :)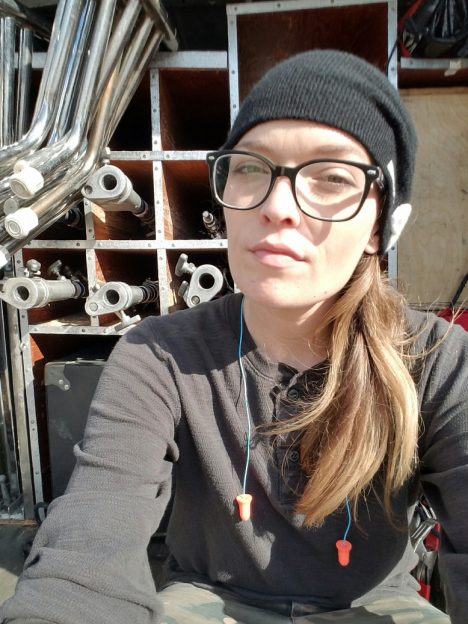 FIF Mentor Jessica L.
Hey everyone just wrapped another shot for a TV pilot called Conrad.
Got to work with fellow FIF people Alana D, Krystle K, Jamie J and John W.
You guys were awesome and we couldn't have done it without you! The shoot ran really smoothly and we even had actors who had worked with the show before comment on how smoothly things ran yesterday and how it was the best day of shooting with Conrad they had.
Our new director was awesome but it wouldn't have gone the way it did without you guys.
Thank you! I hope to work with you all again soon!
Berthile A.
Hey guys, hey Janet Urban!
See who was on set with me yesterday and going to come back tomorrow! FIF MENTOR Alex .
FIF mentorship is taking over the industry, where ever I go, I find another FIFer.
Congratulations Janet Urban, this program is a revolution!
Thank you so much!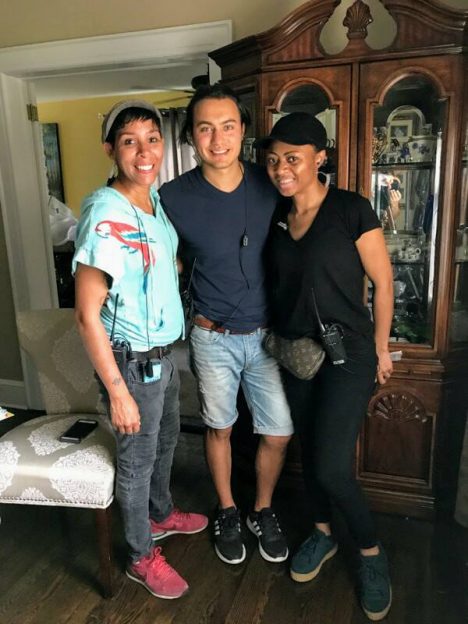 Charlene H.
Hey guys,
This past weekend I worked my first two PA set shoots in LA!
Saturday was a beer commercial lol, great crew it was tons of fun!
The two producers that own the company were super impressed and said they'd definitely be using me again, I made tons of connections and everyone was impressed with my cards lol.
So while working Saturday I got a call about another shoot for Sunday, someone referred me and the director immediately responded and asked if I was available, and of course I said yes!! It was for a tv pilot that she's pitching to a good networks.
It was a great weekend, I worked hard, learned, networked!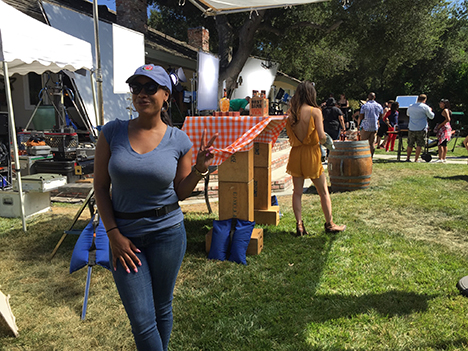 Melissa R.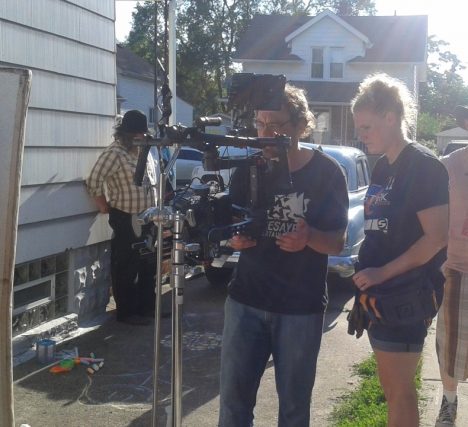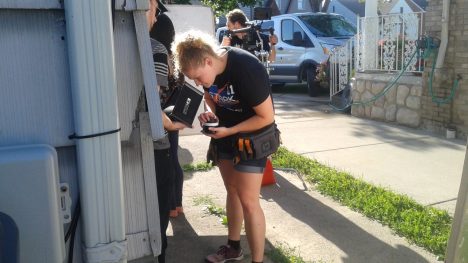 Crystal C.
To those who just started, or those losing momentum: don't quit! I've been with FIF since October, I'm not even on module 6 and here's my story:
I started in October and focused on really studying the modules (not rushing just to move on to the next one!).
November and December were busy for my family so I stopped midway through module 3. I still attended networking events/parties.
January I finally got back to try and study, getting to module 4. That month I was blessed to work 4 days as a PA!
The next two months were a mix of paid and nonpaid work. I really focused on learning so I was a free production coordinator on a short film, a PA on some one-day shoots, and even an extra sometimes for Queen of the South. Just adding to the resume!
Other jobs got me referrals to more jobs. I knew jobs were starting to stack and soon I'd have to quit my day job to keep going (I was already starting to turn down film work in March because of my day job!).
Then March 24th I got a phone call. The AC from my very first PA job referred me to work on Little Women Dallas……for THREE MONTHS!!
The scariest part was leaving my day job, knowing that after the show, it was going to be constant job hunting. But even during the show I got other job offers!

This is my calendar for July, I try to separate different shows by color. I have 4 days off in July! And when I'm not on a show, Texas Flip n' Move picks me up as a frequent dayplayer and they film year-round!
A show in Midland picked me up because of my experience, it'll be my first show outside of DFW spanning more than two months!
Janet, THANK YOU!!! I left my 9-year job. My dreams are the CRAZIEST reality and I can't believe this is all in less than a year!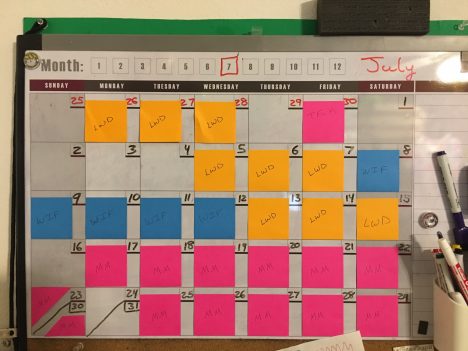 Cynthia C.
Magic is real guys! This program has been amazing with teaching me how to network. I've been on many sets since I've started the program and am now making $250 a day.
I've been able to get in contact with the gaffer, the UPM, Props master, set designer, etc.
They all want me as their assistant!
So excited and feel so blessed to be doing something I love.
Thanks Janet Urban. I owe it all to you!
Planning to head to LA in November!
Lauren B.
Day 2 of 7 working for FOX Sports at the US Open Golf Tournament!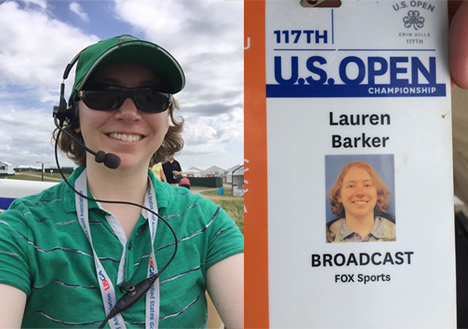 Kelsey O.
Hi FIF Fam,
I started off working on Top Chef last month and worked on that for about a week. I've definitely never worked with 40 PAs at a time before! What was even more special about it was that I got to work with so many FIF members, including FIF MENTOR Jen Jorgenson, who started as a PA on the show, but vectored her way into a line producer! FIF graduates Anton Church and Tiffany Tapp were also on set: they were proving to be some of the strongest PAs on the project :)
The show was definitely a little challenging at times. The production coordinator was always switching up PAs' call times, or giving call times to them extremely last minute, thus creating a negative energy around the other PAs. I really had to separate myself from this environment, and it proved to make a really strong difference! I was washing the dishes one evening, and another PA near me started complaining about something to the APOC. After she finished, the APOC turned to me and said my name. I looked over, ready to help. He said he didn't have a task, he just needed a smile. He noticed a lot of people were in a sour mood and appreciated my joyfulness and positive energy.
In between working on Top Chef, I also worked on a documentary for Showtime. I worked with the same crew back in February and I was SO excited to work with them again when they called me back! I always learn a ton and everyone is so nice and fun to work with!
I just got a call about working on a documentary for the three days. I'm picking up a rental car and some equipment today, then I'm picking up two crew members at 3am tomorrow to take them to the location 5 hours away! It should definitely be an exciting set!
On top of all of this, I'm starting a production company to create videos for small businesses. I made a few videos for businesses a few months back and it's quickly become something I'm passionate about! I've learned so much on these sets that I know will help me professionally establish my small business.
I love this program, I love what we do in this industry, and I'm loving life! I hope you all are having a wonderful week!
xoxoxo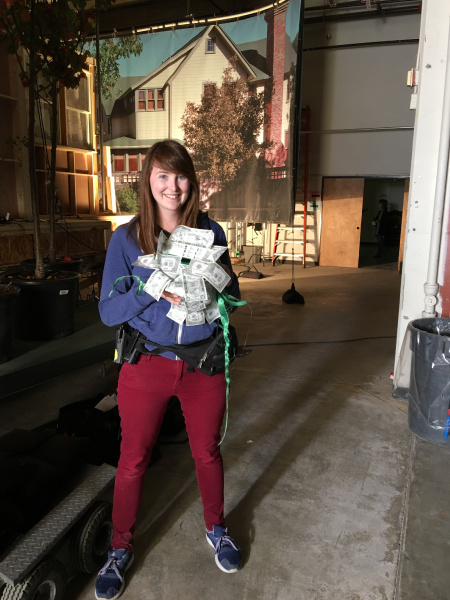 Samuel T.
So I'm back working on the national geographic show the long road home.
I got asked to work one day, then the entire next week, and now mon-wed this week.
Today we are filming interior helicopter scenes in a studio. Unfortunately my lock up is outside watching the roll up door.
Last week we had a car on a trailer, filmed in a bar, in a cemetery, had an anti war rally, and more.
It's been fun.
FIF Mentor Ashley J.
Hey Friends in Film Fam-Bam!
I usually don't share stuff like this but I think this can be a source of inspiration for you all.
When I first started doing FIF, my family was supportive but skeptical. No one was more skeptical than my mom. LOL.
I had graduated from college with student loan debt of course. So when I walked away from my full-time job to pursue film full-time, mom was not very happy.
"How are you going to pay your debt?"
"What about your bills?"
"Is this program ACTUALLY going to help you?"
To be honest, I told her this:
"You know mom, I don't know 100% what the outcome will be, but I DO know I need a change! And I have faith this will work. There is absolutely no other option for me."
Through Friends in Film and Janet's methods, I have made more money IN 1 DAY than I have made in an entire month working a full-time job.
This check is when I worked on the Librarians. Now, this post isn't all about the money. Yes, money is important. BUT this is from doing what I love to do!
My mom sees the hard work I put in and sees that I get paid for what I do. She fully supports my decision! Your family may have their concerns but move forward anyway. :)
This is your life. You only get one chance! Live it well with love and power.
—Ashley
Ariana S.
Hello Folks!
I thought I'd share a photo of me working the reflector! :)
This method of networking is unlike any other training I have had in my life. Not only am I seeing results, but I'm changing as a person!
I feel so empowered every time I leave a set.
I don't worry about "I hope they liked me."
Keep the FIF mindset and you'll be soaring! ;)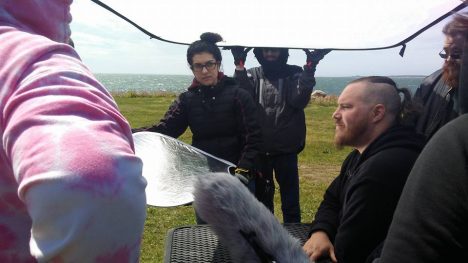 Sparkman C.
It's my first week as a DIRECTOR'S ASSISTANT for a feature film that's coming to NYC this summer! It stars Rebel Wilson (Pitch Perfect and How To Be Single). I'm hired from pre-prod all the way through editing – about 6-7 months of work!
And the perks continue to FLY in. The production company gave me a rental car to have for the duration of the job to drive the director around! They pay for gas and everything!!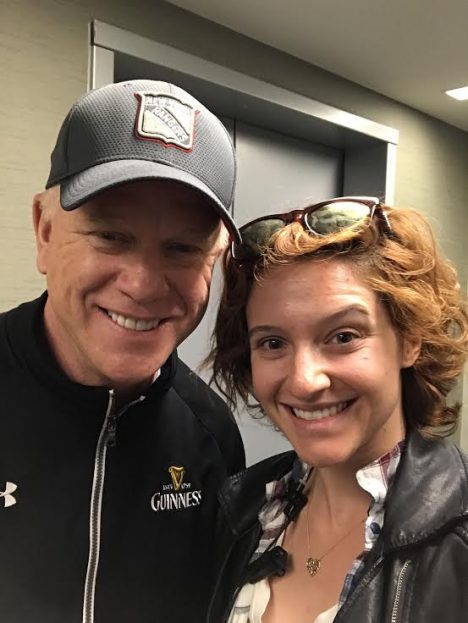 Nathalie P.
Friends in Film in ACTION in London!
FIF Mentor Erin
Every week I get a check from a production company and NOT a restaurant!! OMG it feels so good to work hard in the industry I LOVE.
Thanks to Janet and FIF.
XoxoxoxoxoxoxoX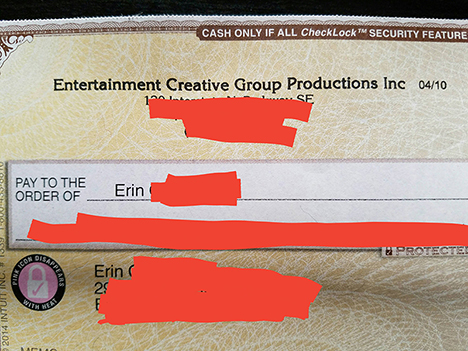 Crystal C.
So it's a good thing I haven't read the books yet to watch the show (my preference) or I would've had to hold back from being a star-googling fan! Pretty cool working on a large set with big stars attached, much higher level in quality work! Also…………..THIS is how you film "Carpool Karaoke", lol. Link goes to more info on the show.
www.mashable.com/category/game-of-thrones/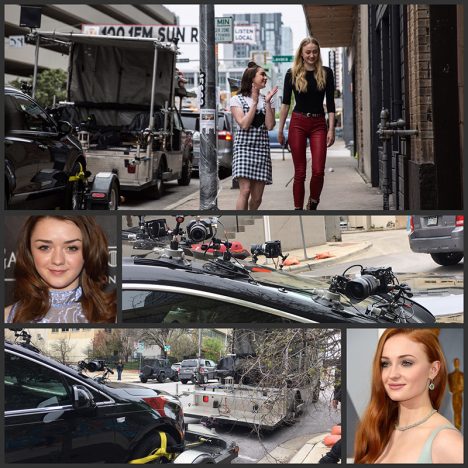 Kelsey O.
Hi FIF Fam!
Having an amazing time working on a Netflix feature in CO with Robert Redford & Jane Fonda! We have 2 & a half weeks left of shooting and I'm really sad to finish – I love all of the people I'm working with! Looking forward to what's next!
Hope you all are having an amazing week!!
Kelsey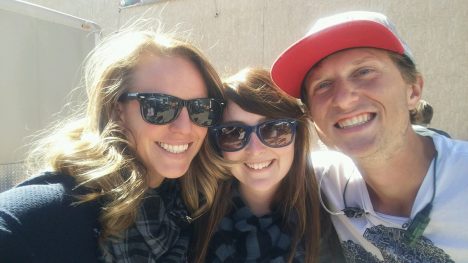 Mike W.
Hey Yammer Folks! Just finished the last module in FIF training!
Since starting the program, having never been on a real set in my life, I have now worked my way into the art department side of things and I am making more money than I have ever made in my life!
I am addicted to the set and excited to see more opportunities come my way.
The force is with us friends!
Stay positive and never stop visualizing the future that you want to see!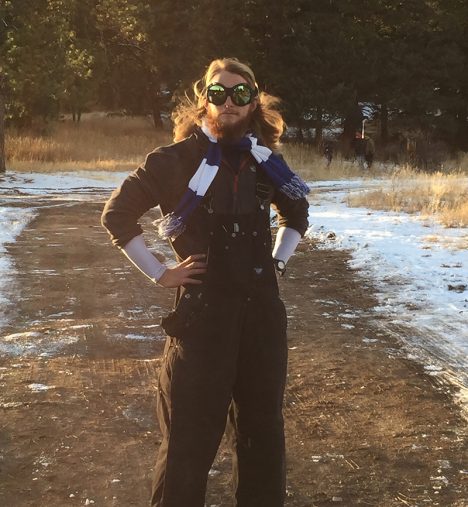 Jana B.
Hey guys! I had the absolute privilege of working on a new spin off reality show for America's Next Top Model. It's called "Top Photographer."
I met amazing people and learned a lot about working with people that are celebrities and super stars. It's all about mindset folks–you have every right to be working with them–don't ever let yourself feel inferior :D
I'm already making LA contacts so hopefully a visit to LA and meeting you is only a few months away ;)
Thanks so much Janet :)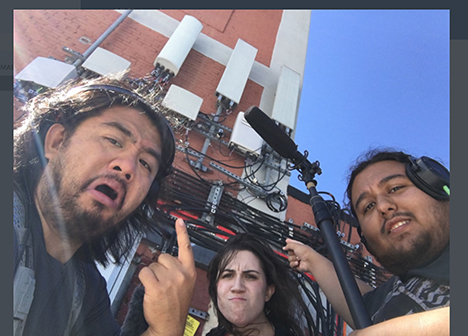 Natalia B.L.
Hey Friends!
I am just checking in and I would like to say that:
Everyday I feel more like me and less what others expect of me!
I would like to tell you how much I appreciate having you in my life! Thank you Janet for creating this amazing program … I finally feel like I fit in and I am just getting started!
Lots of love and smiles!
FIF Mentor Erin
Ok y'all! This is my very first PAID SET DESIGN job! I did this Lil backyard platform. All solo. So huge for me to be head of a department, to have a PA helping me it was so humbling.
It played so well on camera!
So my first set design gig is in the bag! $600 pay day not too shabby!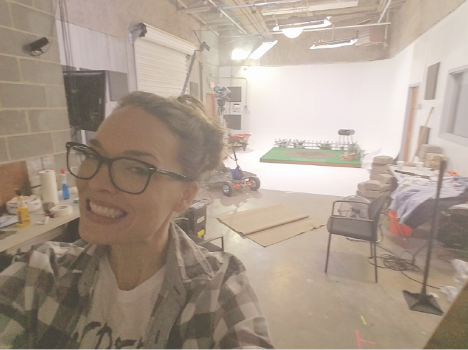 AJ was homeless in NYC when he started the mentorship program.
From homeless to…. this?


Sparkman C.
Hi Team!
Here's a photo from the indie production I AC'd for! That's ASSISTANT CAMERA!
That's me and the DP on the monitor :) We had great times – I learned a ton! SUCH AS:
– When you're on camera, you gotta be on your toes! Have the slate READY for the next scene, if you zone out, the whole team will be waiting on you.
– When you have the slate close to the actors, do NOT slam it – slate softly!
– How to pull focus electronically
– Film school is very VERY unnecessary (the crew either marveled that they never needed it or complained that it was a waste of money)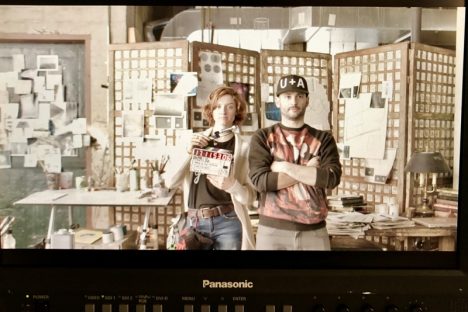 Ashley F.
Had my second PA opp last night and look who I got to meet and work with…the legendary FIF MENTOR Patrick! After working my day job and then being here through the night, it made for quiiiiite a long day (27 hours), but it was yet another learning experience and I still enjoyed it! It was great getting to chat with Patrick and see him in action and of course just be on a movie set :-D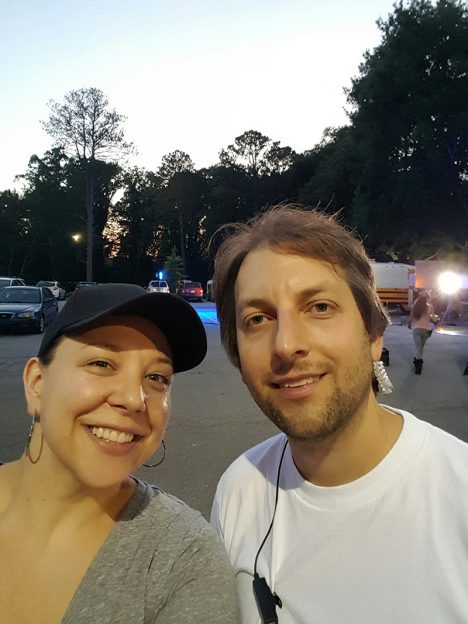 Dusha H.
I just wrapped on ABC's the Match Game hosted by Alec Baldwin. I was PAing for that gig, and I've been working ferociously on NBC's Give.
Since getting into this program and watching the Modules, and the adopting the mindset of the Get It Factor. Literally opportunities have been opening up for me left and right.
At the Wrap Party for match game the HMU Dept Head, came up to me and asked me all about myself.
She told me that she thought I had great energy, and a sharp mind. She said I should be one of the producer's personal assistants, and proceeded to introduce me to all of the shows writer's and producers!
That experience was incredibly validating and a sign that we're all on the right track and that Janet is literally giving us gold.
Thank you Janet for putting this together.
So since I started FIF a month ago I've worked for NBC, ABC, JP Morgan Chase, Advil, and a few others I don't even remember.
Thank you Janet Urban…and thank all of you supportive bat team members.
Every time I leave set I'm like giddy to come report back to you all.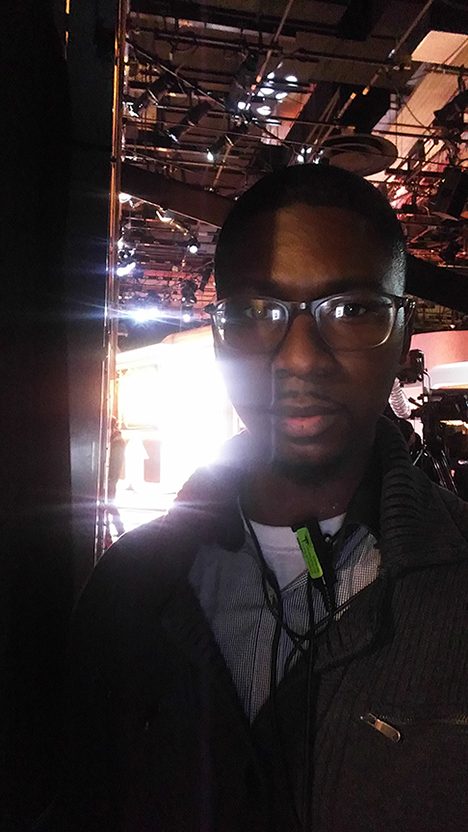 Jake T.
This week, I was on set working as a Toy Tech for a commercial (super fun, got to play with Hot Wheels cars all day and get paid my top rate!!)
I got $250/day to play with toy cars. 3 day shoot. Mind-blowing!
I was asked to work by 4 (FOUR) other productions!
I had to say "I'm booked, but thanks for thinking of me!!" to each one, but holy crap!!
4 different productions asking me to work for them in the same day?! YES!
It's unbelievable what Janet's training and mentoring can do for you if you put in the effort to apply it.
It may not feel like it every day, but keep at it, keep smiling and bringing positive energy, and working your hardest, and you'll hit that success before you ever imagined you would!
Peace and love everyone! Hope to see you on the call tomorrow!
Ashley J.
I wanted to share a win!
Last week, I just saw a post about needing a PA. I immediately jumped on that opportunity and I said that I just finished a shoot for a McDonalds commercial a couple of weeks ago.
He quickly replied "Hey Ashley, you did that shoot with Fon?" (Fon was the line producer for the shoot) and I said "Yes!" and he said "Oh cool! So you are available Monday then?" and I said "Yes I am :)".
The next day he sent the call sheet and I am on the shoot for 5 days!!!!!
Its so cool to see how everyone is interconnected!
Because I worked with someone he knew, I got the job!
This program is awesome and has transformed my life.
When you work with great people, you become great!
I cannot thank Janet enough. :)
Jana B.
Janet! Hiiii!!!
So many amazing things happening!
FIF is perfect! I think I will finally be able to make an in person call next Sunday. I'd love love love to talk about what people can accomplish within just the first two months in the program if you are in need of someone to speak to on the call.
I'm working on module 6 but have already made enough money to pay off the program, in like 7 weeks!
Janet asked if I could speak on the call tomorrow, but ya know what I told her? "I'm BOOKED on a shoot!" :D
Now, I don't say this to brag. The other amazing people in this program don't say these things to brag!
We post about these things to show you that this is REAL, and that success is out there and so much closer than you can possibly imagine.
Kevin G.
Good morning friends! Just checking in, good things are happening here in LA! Landed roles on back to back auditions this past week, a historic event for me as I will have my first official role with dialogue!
And you know what guys?! The inspiration from all of YOU, as well as Janet, and the guidelines of this program have enabled me to break free of that old Corporate America 9-5 life that was holding me back from growing and being happy in my career choice!
It's a bittersweet feeling having to turn down another boom op gig next week, but that is due to the role that I landed at my audition on Wednesday and I cannot pass it up! Will check in soon with more updates and some pictures from the set this weekend in DTLA!!
Have a wonderful weekend and keep grinding!
Lydia E.
I. Am. Doing. It! So yesterday I was on my on my first PAID shoot!
It was a great shoot! And it was also hotter than hell outside! lol. I wish I could share some photos with you guys, but once it has been released I definitely will.
At the end of the night after we wrapped the director said "I appreciate you coming out. Welcome to the team… "
I was like oh man. I also told him that I was an actress and he said he'd be happy to put me on as talent! Ahhh! Yes!
So yeah…my day was filled with joy after a long 12 hour day. =)
Goran M.
I just came back from my very first paid PA gig and it was awesome!
It was a 3 day job. Wow I cant describe the way that I feel! It was absolutely amazing, I was on professional shoot and I believe the budget was $200,000.
We were shooting for a history channel commercial with a hi tech robot.
I worked my ass off but let me tell you guys! People were so appreciative I had at least 5 people telling me that I rocked the day ( I knew I did I got Get it Factor lol Thanks Janet Urban)
They even though that I was a swinger lol I was everywhere doing anything that I can to help while the other PA were standing on the side and chit chatting I was all eyes and ears.
Yes, honestly I wasn't even sure if I could get on a volunteer jobs when I started the program but your videos and examples of others give me a strength and guided me towards this job!
Everything happened so fast and when I got the offer I didn't even blink I just said yes and had a positive thoughts "Yes I can do this. "
Thanks to your confidence training and videos I was bold to go for it.
Before FIF I couldn't even imagine it and now its Reality!
Alex G.
Working at a stage today! Tommy Hilfiger shoot :)
Also got some good feedback from the emails Janet Urban challenged me to send!
Casting director said welcome back! And could I hold a date and the Coordinator said she has a job coming up in the next 2 weeks with more details to come!
Alex G.
Working with supermodel Gigi Hadid today!
Jen J.
Before finding FIF, I was frustrated, angry, discouraged and felt hopeless in the film community. I was frustrated my agent was not sending me out more, and felt that I was stuck in my day job. I stumbled upon the program randomly (I think by facebook) and decided to go for it.
Since joining the program, I have been able to get into the industry. I have gained confidence, relationships, networks and WORK.
I have learned so much about the industry, and learned how to involve myself without much prior experience.
I used to walk on set meek and timid, and now can walk on with confidence.
I have been able to book more work as an actress, as I have found ways to keep level headed and not intimidated. I have gained a sense of worth, confidence and found my firm stance in my calling.

I have learned how to connect and talk to Casting Directors, Producers, execs, and higher ups without being awkward or too pushy.
I have met the man of my dreams on one of my shoots, and couldn't be happier. One specific experience that I had was when I met my boyfriend. I ended up coordinating the extras and worked alongside the DP, so I was promoted to 2nd AD!
The Producer later then also made sure that I was featured because I worked to help out the crew.
THEN later that day, the Producer came up to me and said that the Director specifically asked for me to come back the next day.
Throughout all of this, I was working alongside and coordinating with my now boyfriend, so it was a win-win for all! It was one of the most amazing experiences that I have had while on set. : )
WE are the future of the film world. I am excited to be collaborating with creatives NOW! SO exciting!!!
Chad C.
I believe that "Friends in Film" is greater than we imagine and that its effect on the industry will take on a life of its own and become generational, and I hope to be a part of it.
Furthermore, I feel as though "Friends in Film" is the answer to my prayers. See, though I have an education in film — before FIF, I had never worked professionally in the industry. And I had kind of gotten preoccupied with "real life" i.e. …available Work, Budget, Family and "friends."
Now after finding FIF: I have realized that there is industry work available in my immediate area, that the income from working in the industry can be awesome. I can both have an "Amazing Career" in film and make friends in film that have a great deal in common with me, and develop lifelong friendships.
Kira Z.
I started with FIF in Feb of this year. Like a lot of people I saw the Career on Fire advertisement in my newsfeed on facebook. It was free so I was like let me check it out. I've always wanted to work in film but I didn't know where to start.
I went to school but they didn't teach me how to get a job so my school training wasn't any help.
Since day 1 of starting with this program I did exactly what Janet told us to do in the training and I have learned so much and I have been getting work.

I got 2 checks today from different projects and I'm overwhelmed because I never thought I would be working in the industry making money in less than a year!
I'm not putting up these checks to brag but to just give someone who may be doubting themselves hope. FIF is one of the best investments I have ever made! Just stick with it! I know 2016 is going to be crazy!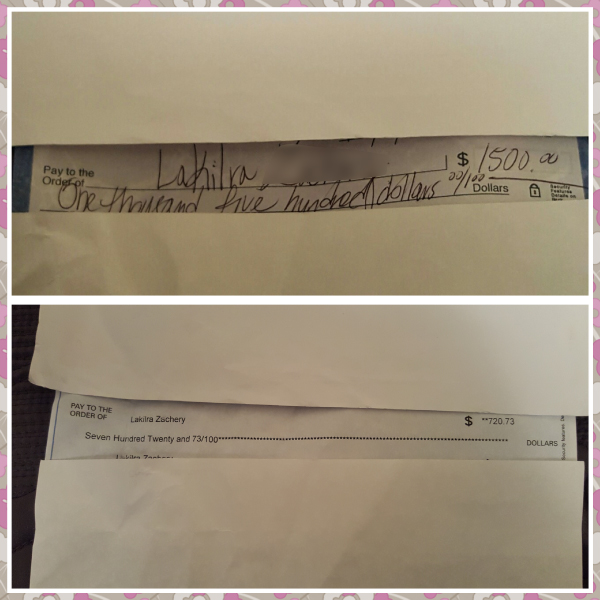 Emily H.
Before Friends in Film, I was at the lowest point of my life thus far. I was depressed, felt that I was no good, that there was no hope for me. I was living with my mother, and I had absolutely no money, and a job that made me feel like I was dirt. Before then, I had been attempting to start a life in Vegas, with no help, no connections, and no idea how to even begin! Once again, I felt like a total failure, because I hadn't been trained properly. Even before then, just fresh out of college, I was still depressed, living with mom, with no idea what direction to go in, or even what motive. So, in all, I was severely depressed for over 2 years!
Then my girlfriend found Friends in Film. We had just moved out of my mom's house and into a new one. I thought, 'Oh, this is probably not going to help me, but eh, I'll give it a shot', and did the free trial. I was instantly hooked, because you, Janet, were giving little tips an hints of how to get in the business, and I hadn't even paid yet! I had to get into the program.
Now, I'm doing what I have wanted to do since graduating college! I'm a professional SFX makeup artist; I'm confident in saying that I'm one of the more talented ones out in Atlanta, because I'm told that constantly by my colleagues!
I'm making my own schedule, I'm booked nearly every weekend, I've made THOUSANDS of dollars since starting, and I'm only going to make THOUSANDS more! And I'm just at the surface with indie films! I'm still doing the program, and I'm learning how to get into even BIGGER businesses, and to be honest, I already feel like I'm on the right path.
Yes! This program doesn't only help you with jobs, but it really helps you find your best self, and more confidence. It gives you positivity and whenever you feel doubtful, you know Janet and the gang are going to be there to tell you that you're amazing.
Becky A.
Cool story! The shoot last shoot that I was on offered a chance to whoever wanted to go skydiving now was their chance. So I got to go skydiving with professional military skydivers that actually train military officers! I love my job and life!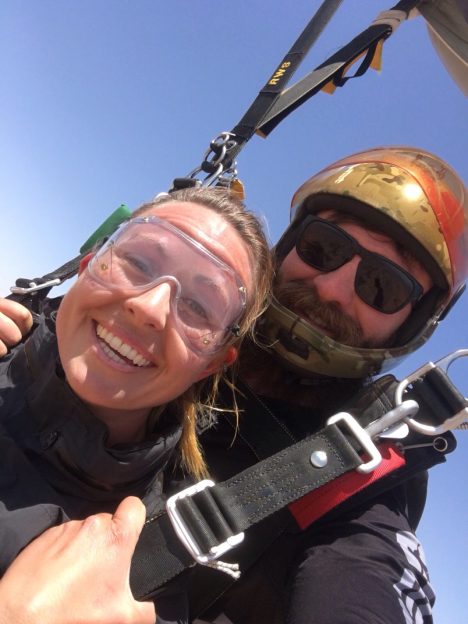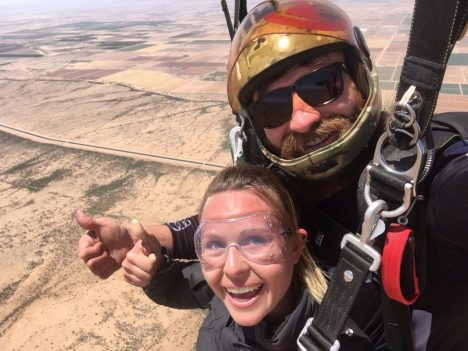 FIF Mentor Alicia P.
Here are some photos from my shoot so far in Hawaii! It's hard to take pictures because I'm operating camera. There's the view from my room, one I took while getting b-roll footage yesterday and a photo of the catamaran that we filmed on this evening. I got a little motion sickness on the boat but it was still a blast!
Kaleigh M.
Hey everyone! :)
As promised, here are a couple of pictures of me on set today- I tried to get my tool belt in the frame!
I was the Wardrobe Supervisor for the short film I worked on today, and I will be doing the same thing tomorrow for the same film!
It will be the last day of shooting, and there are quite a few scenes to cover, so tomorrow will most likely be a tricky day, but I'm prepared and will bring a pleasant attitude no matter what! :)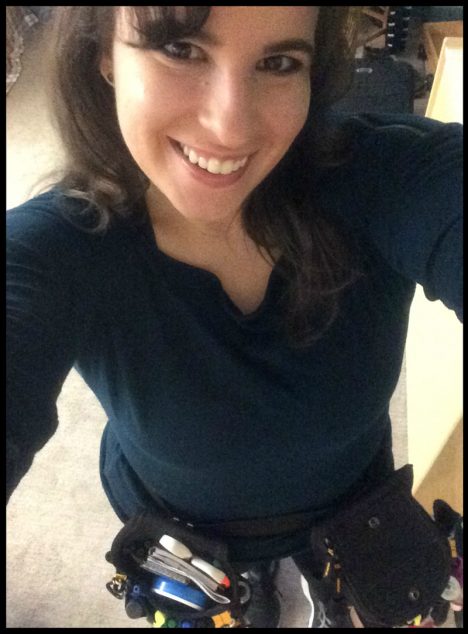 Darcy H.
Good morning! I can't make the call today cause I'm on set for a Honda commercial! We're by a lake and the birds are singing and the sunrise is just gorgeous!
Lauren B.
I had a great time working on the Voice this weekend!
I had a very early morning and didn't sleep super well the night before, so in the morning I felt super tired but I kept telling myself "It's gonna be a great day. You're in Chicago! Working on the Voice!
This is awesome!" And it definitely helped. Once I got there and met a lot of the other PAs and started working things went very smoothly.
I was paired up with a Producer in an audition room, and I would bring groups in ten at a time, collect their paperwork and give them instructions.
After the first couple of groups, the Producer asked me to do a thing or two differently, but after that I got into a groove and things went really well.
I checked in with him at our lunch break to see how the flow was going for him, and he said it was working well.
Here's a photo we took of a bunch of us PAs!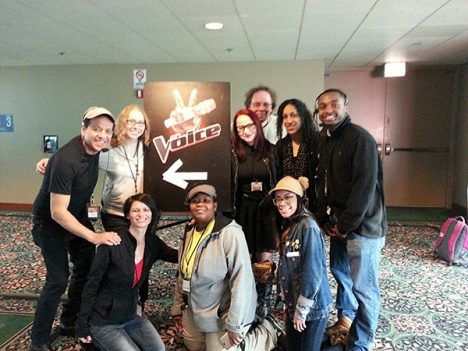 Anna L.A.
Hello FIF family! Long time since I've posted. Quick update. I am still working with Chicago Fire and on Monday they want me in charge of first team. That means I manage all the actors and make sure I know where they are at all times and get them on set at every moment they are supposed to be there. Talk about responsibility!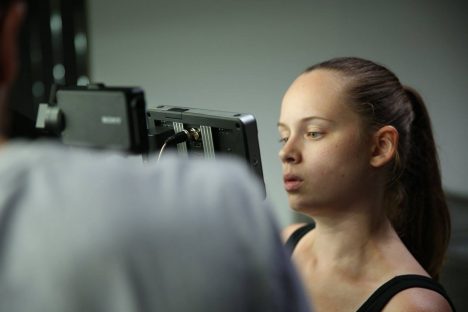 FIF Mentor Bridget H.
FIF Chicago peeps in the house!! Thanks for coming out last night! Cheers to 2017! It's going to be a great year!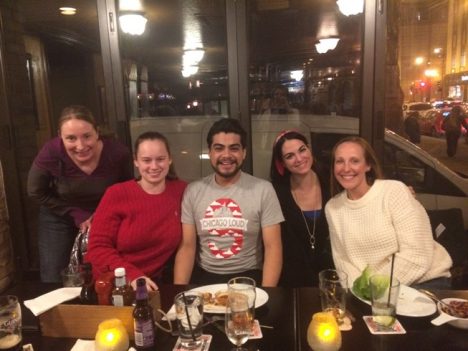 Tanner B.
Hi all! Hope everyone is doing well!
I've been traveling all over the country working on so many great projects and connecting with amazing people.
I've been working on commercials, shorts, live broadcast events and I've filled many roles which include production assistant, video playback operator, production coordinator, swing, and camera op.
None of this would of been possible without Janet and the FIF Family.
It's because of Janet's insight and the FIF members sharing their experiences that I was able change the way I work on set and connect with people.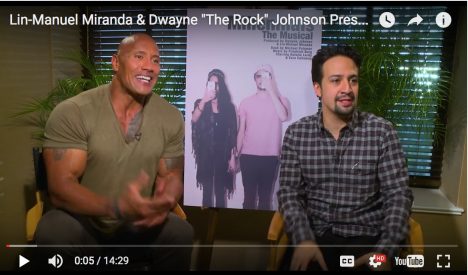 Alicia P.
Hello awesome FIF peeps!
I know you are all rockin' it out and I wanted to drop you a quick line about my experience on and off set so far this week.
I have been in the program for 15 months and it's the best thing I've ever done. I make my income 100% from the industry (I make a lot of $) and I still have to pinch myself sometimes.
My schedule is booked solid until Christmas, so much so that I'm referring other FIF peeps to work that keeps coming my way. I have so much work that I get to pass it forward how great is that!?!?
This week I've been on 2 different shoots, the first was with a crew I work with a lot and the 2nd is with a whole new crew. Today is day 2 on the 2nd shoot. Both the field producer AND sound mixer reported back to the production company in LA to get me on as many shoots as they can. They approached me separately to tell me this and that they have worked with a lot of people but none have impressed them so much in JUST 1 DAY! It's so fulfilling to hear these things constantly and it's all thanks to what Janet Urban teaches.
This is what the program is all about. Getting on set, networking, getting referred for other jobs, always learning, advancing in the industry and doing it all with memorable personality and great attitude.
Have a great rest of your week!
-Alicia
FIF Mentor Erin
Hey y'all! Been a long week! On location in South Carolina (about 2 in a half hours from where I live) all week. Wrap today.
HGTV. Super amazing Crew in from NYC. Had such a fun week. Laughs& Inside jokes. I learned so much on this show. Wowza.
Also in each state they traveled to (10 different ones) they hired local pa's well the producer , both camera guys, and the coordinator all commented on how grateful they were to have me on board for the last episode. They said I was the best.
It's so rewarding hearing that!! Couldn't have done it with out FiF.
Xo love ya!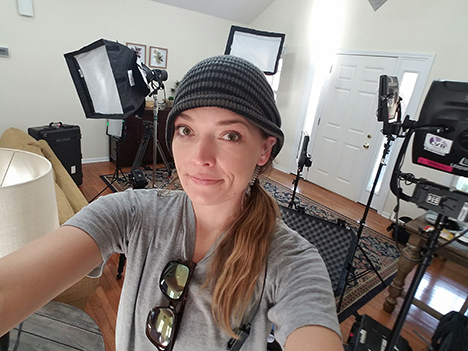 Alex G.
I'm working on this spec TV pilot right now.
I have to say that I feel needed. And that's a damn good feeling. I'm sure some of you have experienced this too.
This feeling that people are confident in your abilities and respect you for being so ON TOP of it.
I am the key PA on this project and I am QUICK.
All the training I've done and all the sets I've experienced have made me the person I am today. I am quick, I'm direct, I'm succinct in my exchange, I'm smiley, I listen…all of those things are why people LOVE me.
It struck me yesterday how much a huge takeaway that was. The other two PAs I delegate tasks to are nice, eager, sweet, but there is MUCH room for improvement.
And I have been helping them to help me without giving the secret sauce away (they attended the Made in NY PA program btw).
Anyway, I just felt like sharing that feeling of accomplishment and that I've had great conversations with a number of people from different departments on set and feel great because they all welcome working with me in the future.
To feel that abundance and confidence that there is work down the line because you're just owning it is an awesome feeling.
I know some of you know what I'm talking about and for those that don't I can't wait to hear about it when you experience it <3 have a great week! The 1st AD on this pilot took a pic of me standing in!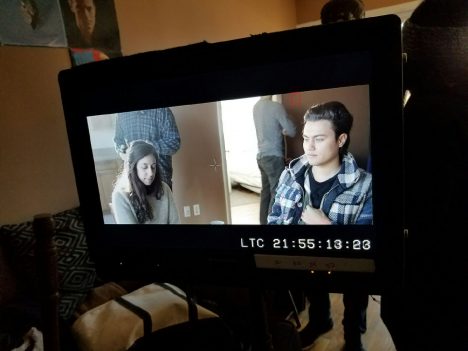 FIF Mentor Erin
Look who ran into each other again!!!
Ahhhhh !!! So much happiness here in Atlanta !!! :) had such great conversation and laughs with FIF Mentor Leaf and friends. Thanks to Janet no matter where we are in the world we can always find a FIF :) xo I love all of you wonderful humans.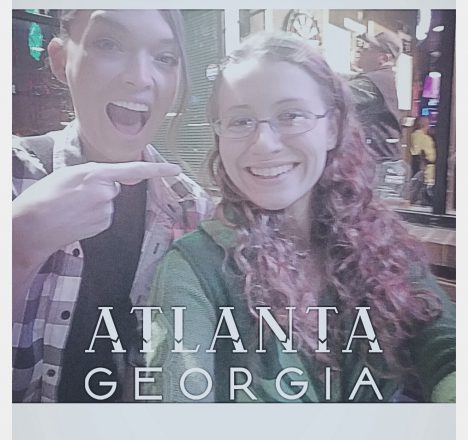 Kelsey O.
Hi FIF family!
I just finished my last day on a Netflix feature film in my hometown! Words can't even explain how blessed I feel to have gotten this opportunity! I made so many wonderful friends from around the country and I'm praying deeply that I'll get the chance to work with all of them again soon!
The best part about our business is the people.
I felt so blessed the last day because the 1st AD wanted me to call out "Ladies and gentleman, that's a wrap!" after the final take in the room and into the walkie. What a humbling experience!
Many people on set also constantly noticed my great attitude and smile. I feel so lucky to have experienced this set!
I hope you all making wonderful friends in this business!
I hope to work with you someday!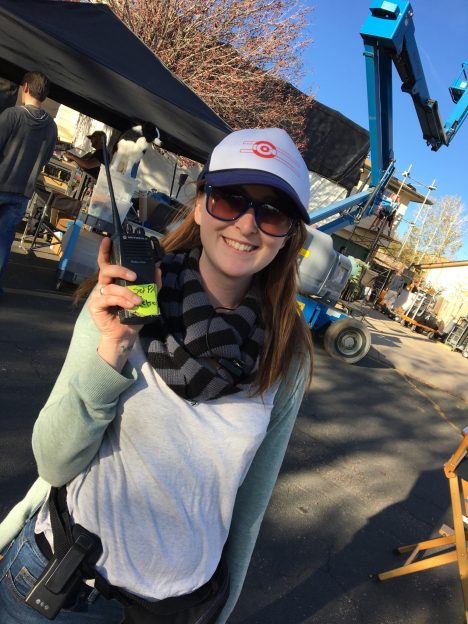 Amy G.
I just got to LA (from Chicago) not too long ago!!!
Wow! Feels amazing. :)
I look back on where I was a year ago: with no idea on how to get into the film industry. And now I'm here in the center of it with a year of experience under my belt. And that experience is making me stand out from all the other resumes.
LOVE LOVE LOVE!
I've had such amazing responses from people I've contacted because I have listened to everything Janet has said and taken it to heart. People LOVE the way I come across in emails, in my resume, and in person in LA because industry professionals want to be surrounded by positive hardworking people! THEIR people! :)
All you have to do is want it and go for it with everything you got. :)
Listen to Janet and bring your heart and all of yourself with you to every job. You guys can do this!
FIF MENTOR Bridget H.
Filming a parade for a commercial! (excuse the pole! lol) It's hard to even see the camera because there's so much going on. haha Crazy budget on this, 150 extras and ridiculously good food!
I wanted to post this because I can tell you guys that I would've NEVER thought I'd be on a film set, much less getting paid to be on a set this big! It still blows my mind and often I'm thinking ARE YOU KIDDING ME??!! How is it I get paid $500 to $1000 a day to hang out with my friends on sets like these. CRAZY!!
But the mentorship program is the reason I made it here!! Seriously!! I had no experience or connections, very little money and was in Kansas City of all places when I started. But it took me through every step of how to do it and here I am! :)
I have to say though, not only did it show me how to have a successful career, but it also showed me how to CREATE THE LIFE I wanted in every other aspect. The mental, social, physical, you name it! It truly is LIFE CHANGING!
Don't waste another second and GO AFTER what you deserve!!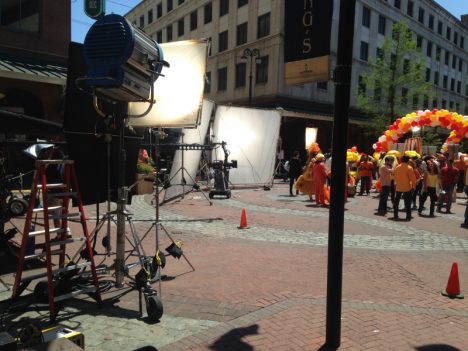 Janet
Live from Pitfire!!! In Westlake! It's FIF Mentor Jake's birthday! Celebrate!!!!!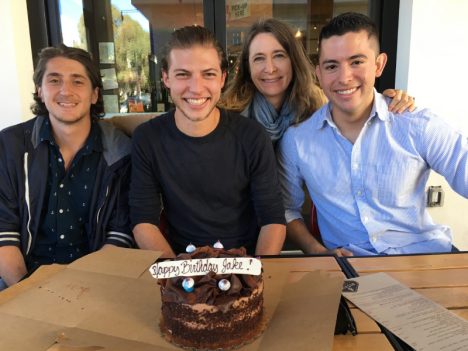 FIF Mentor Ali C.
So welcome everyone so excited to get reading and watching everyone's videos! I wanted to share a couple pics from the shoot I was on yesterday, an UA Commercial. I LOVE PENTHOUSES! Haha especially ones with such good lighting. Yay Film Industry!!! Yay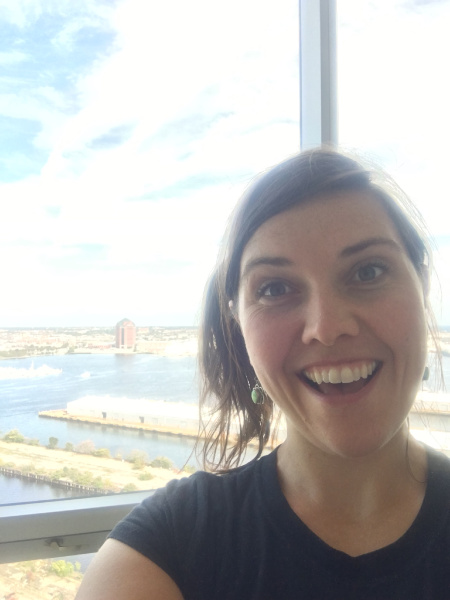 FIF Mentor Leaf
When I first started I felt like all my excitement confidence was just bravado. That I had no way of knowing where I would be in a year or what would happen to me if I took that leap of faith.
But what I found when I took it was that it opened up a world to me that I had only ever dreamed of and wished for, adventures I never knew I was allowed to have.
Now all that excited confidence is real and I'm living my dreams! So take the leap of faith, because you will find that your life ends up changing in ways you never expected. Who knows?
Kira Z.
This is my office today! I love my job #setlife #productionassistant #livingmydreams #blessed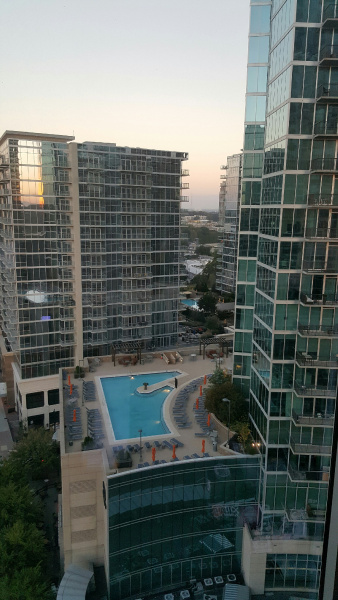 Janet
Celebrating fif mentor Jakes birthday!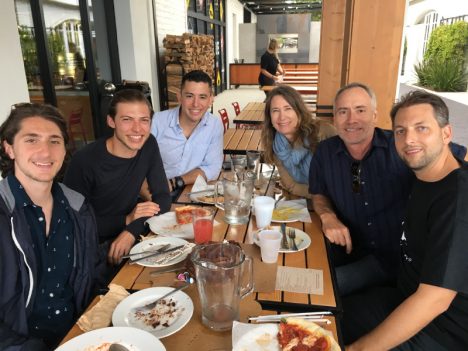 FIF Mentor Isabel
Just booked my first five days for CNNs The Nineties!! I worked on The Eighties last year and we got to interview people like Madonna, Chuck D ( from Public Enemy) and Questlove from The Roots ( Jimmy Fallon's house band).
I'm so excited to see who we will be interviewing for this season!!! Aaaahhhh I can't wait!!!
Janet
Isabel, tell us all the worries that you had when you first started this program, and how you feel now?
FIF Mentor Isabel
AHHH OMG! SO.MANY WORRIES! But Janet Urban helped me find the direction to channel it all.
Story time!
I actually texted Janet the night I applied for that first CNN job. I had her look over my want to work email and we tweaked it.
The PC said he loved my email and my resume and could tell I was going to be a great!
Like WHAT?!?! He said it was just the way I worded it. It showed him I was ready to work! 😜
Without FIF, that NEVER would have happened.
I wouldn't have built my experience.
I wouldn't have had the chance to learn and make mistakes on the smaller sets before I got to the big ones!
Heck, I wouldn't have know where to send my resume to!
FIF helped me direct my excitement and passion.
Not to mention, I was sort of nervous when The Eighties wrapped cause I had been working with them so long, but the Nineties wasn't green lit yet.
I had an uncertainty of what if the Nineties doesn't get picked up? Or what if it takes so long to start shooting that they forget about me?
Literally the DAY AFTER wrap for the Eighties, I had 4 more shoots lined up over the next two months.
It was just a week here and a week there. But they were all different projects with New York crews and I got to network with even more people!
Now whenever it gets a little slower, I don't worry, cause I know that work is about to arrive!
FIF Mentor Isabel
That awkward moment when you're walking to set and TINA FEY walks by… I didn't even know she'd be here today!!
Anna L.A.
Woo hoo! After lots of crazily reworking my schedule I now am booked from tomorrow until the 18th EVERY DAY! Some for Chicago Fire, a commercial, and also a gig with The CW network :). Yay
Janet
Really! They all lined up like that?!!!
Anna L.A.
I have a Fire gig tomorrow, then Saturday is the commercial. The CW event starts the following Monday and runs until the 18th, but the 17th and 18th I am already booked for Fire as well so I will work for CW until the 16th. :). Oh, I guess there is one day I am not booked in there (the 9th). But still :)
Janet
CRAZY! That's called a work marathon!!!
How much are you making in a month now??? I love to hear about the $$$$$$!
Anna L.A.
Hmmm…well let me do the math. I definitely work every week. Average 5-6 days a month. SO on a slow month where its one 5, I make $150 a day so that would be $750. HOLY COW! I never did the math before. That pays for this program and then some LOL! This month putting together the days I've booked so far I will be making…(drum roll :P) $1700 HA HA!
Mike O.
The first crew that I worked with called me and wanted me to be in one of their Indie PILOTS for a TV show! Did the first shoot last Saturday, what a blast! Never would have happened without FIF!!
I play a vampire hunter, but one gets me in the end, obviously :)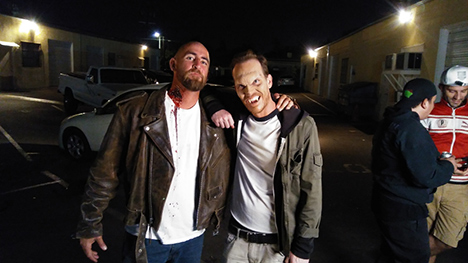 Kelsey O.
What an amazing experience getting to work with FIF Mentor Jen J. on set this week for a NETFLIX FEATURE FILM! Jen is such a wonderful light and it's been incredible learning from her! It's so much fun meeting and working with FIF friends! I hope I get to work with more of you soon someday!!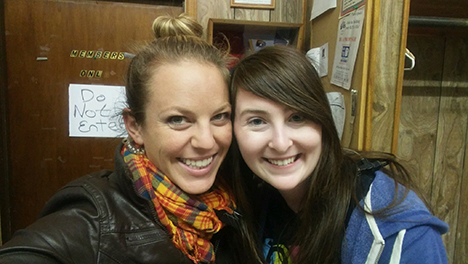 Janet
OMG, how wonderful.!!! I LOVE YOU GUYS!!!!
FIF MENTOR Bridget H.
Janet says get a passport if you're doing the mentorship program!
I just worked on a commercial where they were taking a few PA's with them to South America to shoot the rest of the commercial.
And then talked to another friend who knows a PA that is going to Puerto Rico to shoot the rest of the feature they're working on.
It happens all the time!
Katie W.
Hello my fellow yammer-ers! Hope everyone is having a fantastic Sunday! It has been a crazy whirlwind of a month! I am working on the Robert Redford-Jane Fonda project "Our Souls at Night" as the Accounting Clerk and it's incredible! I don't even have enough room to tell you how amazing it's been – got to quit my crap day job, my whole department is awesome, everyone on the shoot is so nice – but I did want to take the time to tell you all how RIGHT Janet is about everything! It still amazes me to see everything she's taught us in action, on set and in the production office! Hope to share more later, but I wanted to check in with all my FIF peoples and see what you guys are up to. Who's doing what?
Kelsey O.
WOW. What an amazing first week on the set of a union feature film! I feel just so blessed and excited and I know great things are coming my way!
My favorite thing about our industry is our people. Everyone on set is so kind and helpful – a lot of people know that I'm still new and they're so willing to tell me about their experiences and what they've learned in the industry!
I've also been learning a lot about distro (handing mail out on set) and paperwork that the ADs are in charge of – it's been really interesting!
I'm also quickly becoming friends with both the 2nd AD and the 2nd 2nd. I'm learning to anticipate things and think ahead, and, because of that, the 2nd 2nd AD called me out over walkie at the end of the night for being the MVP of the day :D I hope I'm not speaking too soon, but both of the 2nd ADs have already seemed to start taking me under their wings and giving me advice. It's been such an incredible experience!
I'm sharing a picture the PAs and I took last night at the end of our first week on the film :)
I hope you all are having amazing experiences and having a wonderful weekend!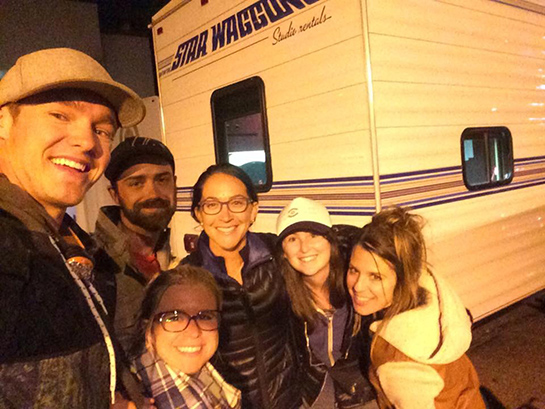 Melissa D.
Hello everyone! :D Just wanted to share a pic of my first paycheck with this program!
I've also been sending some want to work emails to people and have gotten responses. About 4 people want to work with me. No dates, except for one production have been established, but that's ok I'm excited nonetheless.
I'm actually going to the casting for one of the productions tomorrow. He invited me to come so we can talk more about helping as a PA.
Lastly, this Saturday I'm helping with casting again for a web series and Friday I'm going to a film showing that is hosted by someone I met at a film festival I volunteered at. : )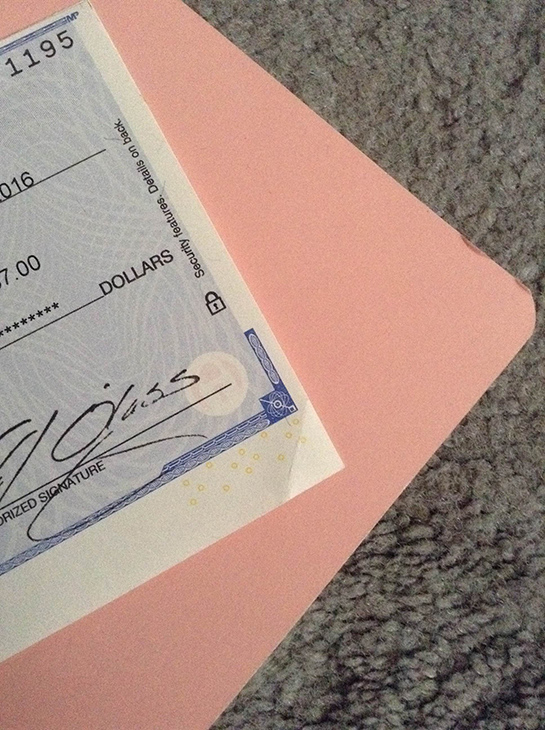 Kelsey O.
Hi my Friends in Film!
Today was my second day on a feature film for Netflix! It's also my first time on a Union set and it's SO different!
I also helped organize the AD trailer today (see attached picture) and escorted actors to set.
Definitely learning a lot and having so much fun!! I hope you all are having a wonderful week!!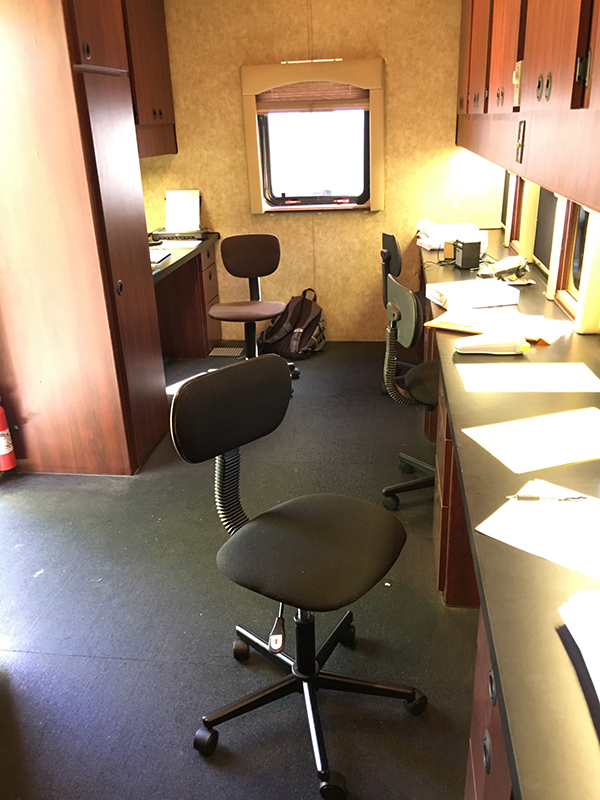 Jake T.
Just wanted to share a couple of cool things that happened this week…
First, I got to see my name in the credits for a nationally broadcast show!! Lucha Underground season 3 premiered on Wednesday and my roommate and I both worked on it so of course we had to watch!! Check it out :)
I'm so excited I don't think I'm ever going to stop jumping around the room when I see my name up there! Haha thank you Janet! Thank you thank you thank you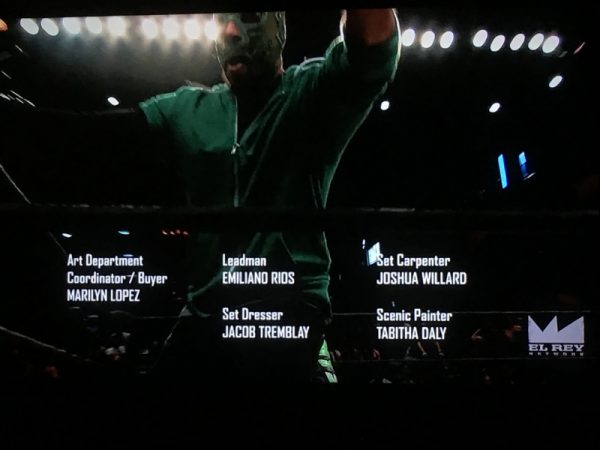 Set today in Malibu! Beautiful house!