About Janet (My story)
Hi, my name is Janet, and I've decided to go out on a limb here and hopefully give you a deeper sense of who I am . . . and what I stand for.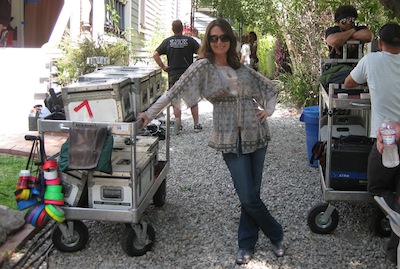 I'm doing this because . . .
I love people who want more out of their life and dare to make it happen…
Even if they don't know anyone else who has done it.
Even when everyone around them tells them they are pursuing a crazy dream.
Those kind of people (you know who you are! ;-) are inspiring, gutsy, and they DO make it happen.
Hey, it takes so much more than going to school or taking a class.
It takes facing your fear and doing it anyways. Making that phone call when your voice is weak and shaky and your insides are on fire.
You know that doesn't feel like fun. No one likes to feel that anxiety.
But, gosh darn it, if it doesn't lead to success!
That phone call, leads to you meeting them in person… then they like you, and then you get on set, then you help them out some more, they invite you to happy hour with a bunch more professionals, and wham!
Before you know it, you're in and working with professionals on big budget stuff.
And by the way, the big budget stuff is where everyone makes a living… me included.
The fact is:
– You don't have to spend $100,000 on film school or acting school. People in our business really don't care about degrees.
– You don't have to be funny or good looking. A positive attitude will get you very far.
– You don't have to live in LA or NY to get started. There are shoots happening all over the US.

Here's my unedited (from my heart) story.
I'm going to talk about some of the stuff that's worked. . . And a whole lot of the stuff that didn't (with the ugly details in there as well) . . . because, frankly, I think you'll learn a lot more from my flaws than from the stuff that worked.
Let's start out with some of the dirt and flaws, because there are a lot of them.
Hmmm . . . where to begin.
– I certainly am no brain surgeon. I often need to have jokes explained to me! I have a heck of a time remembering people's names. I will meet people on set, I will say their name, I'll repeat it over and over… and then when I see them and want to talk to them, their name is gone from my mind. In fact, what usually happens is a different name will pop into my head that seems right . . . but isn't!
– I have a horrible sense of direction. In fact, I think right is left. If I'm in the car riding with you, I'll tell you the wrong way every time. I'll say left and point right every time!
– I have a very poor sense of time. The one time I had a sales job, way back in the day, I showed up on time about once. (That said, I now have a system in place to make sure that I show up early for work on the film set. You cannot be late!)
– I'm not perfect in a million ways. (and people love me anyways.)
Let me share with you a little secret.
I used to try to be perfect. When I first started, I thought I had to come across SUPER PROFESSIONAL. I'd answer people, "Yes sir." and talk in a more formal way. Ughhh.
Then, I started observing the people who I really liked in the industry. They also happened to be the most successful. They said crazy things. They snorted through their nose when they laughed. They had spinach in their teeth after lunch. They weren't perfect.
And I really, really liked them. So did everybody else and that's why they worked all the time.
HEY, that was a clue. A wonderous clue from the universe.
My career really took off when I allowed myself to be myself.
Yes, I stutter sometimes when I'm trying to explain things. I forget my train of thought. I floss my teeth after lunch. hahaha.
Seriously though, I slow down and enjoy the person I'm talking to.
Mostly, I am present. Do you know about staying present? That means being aware of when your mind is drifting and bringing yourself back to where you are right now.
Why am I talking about this?
Well, I believe it is one of the most important things to your success!
All your progress will come from the relationships you make.
Relationships are IT in the entertainment industry. That's the way you move forward.
People don't get hired off resumes. They don't get discovered on youtube. People are not searching for talent. Talent is everywhere.
And people are way too busy. They are thinking about their next shoot.
Here's what you need to focus on.
How you grow your business is through working on shoots.
Work begets work.
You work on this project. You do a great job. Now, you know a Producer, Production Manager, Coordinator, Executive Producer and if you're an actor, a Casting Director and possibly an agent. You may also meet many more people who are Producers and Directors but are not producing on that job.
They may be DPs, ADs, sound mixers, wardrobe stylists, even Production Assistants. It could be anyone.
The key is, if you met them on set... it's probably a very good connection.
Work comes from working. Not any other way.
You met a professional at a film festival. => Forgotten.
You sent them an email. => Forgotten.
You met them at a workshop. => Forgotten.
You email your reel. => Forgotten.
If you're there on set, you must be good, and if you come across confident and know your stuff, you ARE GOOD and you'll keep working!
How everything got screwed up for me
When I was growing up, I was very motivated to make my life turn out really good. I knew it was all up to me. I was going to SHINE! I wanted lots of money, to travel the world, and have an extraordinary life.
So I went to college to get a business degree, got an internship with IBM (in the copier division), and when I graduated I was offered a good job selling copiers for Eastman Kodak Company.
The job fell into my lap.
I was making like $40K a year out of college.
So for years, I trudged through the Wisconsin slush (in my high heels and grey business suits), pretending that I had a grown up job . . . and that I was happy. Football games on Saturdays, going to the bars on the weekends, but then Monday came way too soon.
I wasn't happy. Really, was this all there was to life? After working so hard in college, this was it?
The Power Of Giving Up
So often, our greatest gift lies not in what we can do, but what we simply cannot make ourselves do any longer.

Several years ago, on a cold, wintery day, I was eating a donut in the basement cafeteria (the highlight of my day) and I realized that I was at the end of my rope.
Before my eyes, flashed an image of myself, at 30 years old, frumpy and unhappy, and still single, eating a donut in the same cold, dreary basement cafeteria.
And in an instant . . . I decided to give up the corporate life I was working so hard to achieve.
* I decided that from now on, I was only going to do things that I really wanted to do.
* I decided that, even if it meant everyone else would think of me as a wandering dreamer for the rest of my life, I was completely done with the traditional way of life.
And almost overnight, everything changed for the better.
* I quit my job and cashed in my retirement.
* I bought a round-the-world ticket and flew to New Zealand.
From there I travelled the Far East, Middle East and Africa. I started a new kind of education, where I got my education from the world. I trekked to far away monestaries in Tibet. I watched leatherback turtles come to shore at 2 am to lay their eggs in Indonesia. I backpacked through Russia, did a 2 month safari in Africa, studied history, religion and tribal culture.
Living like that changed me.
After travelling all over the world… nothing seemed like that big of a deal anymore.
I was like "Film industry? I don't see why I can't do that too!"
Anyways, the major thing I learned was…. You get successful from trusting you can do it and pushing yourself.
The sad fact is, most people won't be successful because fear stops them.
Fear stops most people.
Now, I teach an entire program on getting what you want ….. even though there is fear.
Your life will changed when you go towards what you're uncertain about. Even when you have no idea will work, what will happen, or how you'll do it.
The only thing holding you back, is your own doubt that you can really claim the life you want.
But you can. You can decide to have FAITH.
Faith that you CAN create the life of your dreams, IF you jump into action and pursue it like your life depends on it.
And it does.
For me, it started with travel . . . which led me to the African bush . . .where I met a film crew filming the Kikuyu tribe . . . and that opened the door to the film industry and it's incredible lifestyle.
Since Then, It's Been A Great Ride
The highlights? My first year in the film industry I made $80,000. I worked with all the biggest stars right off the bat. Madonna? I shot with her last week. Tom Hanks? tomorrow. Sandra Bullock? We're working with her the next 3 days.
My family was blown away. My high school friends were like "She's doing WHAT?!"
When I first got to Los Angeles, I met my husband, Joe, in the Joshua Tree desert. Joe is a climber and kayaker and a super sweet guy. Lucky me.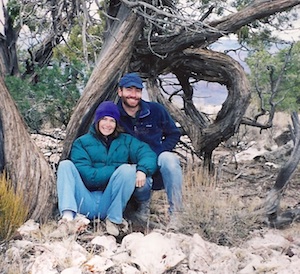 Then I won an Emmy for a National Geographic documentary and got nominated for a 2nd one.
I bought the original farm house on an acre of land near LA. Took some killer vacations to Thailand, Africa, Guatemala, Vietnam. Bought a medical clinic business and sold it.
But the most incredible thing is working in this business. My career has been one amazing thing after another and I am TURNED ON.
I know it's possible for you too.
Why wouldn't it be?
Look at me, if I can stumble my way through this, why can't you?
I really love this business.
And I love mentoring people into it.
The fact that you can get paid to work on film sets, travel to exotic places, see the world, be with the most interesting people . . . still to this day blows me away!
To open this world to people who, like me, wanted more out of life, and to make it happen for them . . . is the most amazing thing I could ever do.
My life is filled with amazing people . . . the most amazing friendships have developed from the Friends in Film community, and it's all built on this love for what we do. Here's a pic from our latest Friends in Film get together.
I believe that when you dedicate your life to teaching your art from a place of love, you are fundamentally making the world a better place.
For several years now, I've given Friends in Film everything I have. And, guess what?! It's not just me. The group inspires and cheers each other on, which warms my heart more than anything.
Almost everyday there are posts like this on our Friends in Film Facebook page: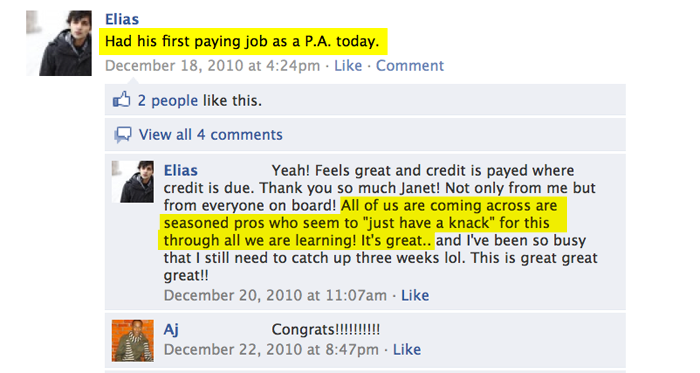 This Lets Me Know I'm Doing the Right Thing
In closing I'd like to say this: There are an unlimited number of paths to our wildest dreams.
And . . . from a bird's viewpoint, from the sky, it looks like we are walking down this path, drunkenly stumbling all over.
But we're getting to our destinations nonetheless.
Here's What I Want You To Do Now
If you have a moment, I'd love for you to go to the comments and give me a glimpse of your story as well.
I'm glad that you're here, and I look forward learning about you!
Warm regards,